The good news is that while the bloodletting in markets hasn't stopped, it's slowed down. 
In brief (TL:DR)
U.S. stocks edged slightly lower yesterday with the S&P 500 (-0.15%), tech-heavy Nasdaq Composite (-0.47%) and blue-chip Dow Jones Industrial Average (-0.07%) all down but the pace of decline slowing, suggesting that markets may be reaching an equilibrium having priced in no further stimulus until well after elections in the U.S.
Asian stocks were uniformly down in the morning session, taking their cue from Wall Street.
U.S. 10-year Treasuries softened with yields edging up to 0.730%, from 0.721% (yields typically rise when Treasury prices fall).
The dollar was flat, unchanged against major trading partners with no signs of stimulus before elections.
Oil stayed flat, with November contracts for WTI Crude Oil (Nymex) (-0.05%) at US$40.94 from US$40.96 as an industry report pointed to shrinking stockpiles in the U.S.
Gold edged up slightly with December contracts for Gold (Comex) (+0.29%) at US$1,914.40 from US$1,908.90 in the previous session on increasing signs of a Democrat win at elections.
Bitcoin (+0.96%) edged up slightly at US$11,500 (GMT 0200) on concerns that a Democrat win in November will stoke inflation because of wider fiscal stimulus as outflows from exchanges sped ahead of inflows (outflows suggest that traders are taking Bitcoin off the blocks in anticipation that price will rise).
In today's issue…
Remdesivir Is Not the Silver Bullet for the Coronavirus
Where have all the dividends gone?
China's Central Bank Just Did a Massive Airdrop
Market Overview
The odds of a fresh round of stimulus from Washington before elections in November appear increasingly unlikely. 
U.S. President Donald Trump, who is trailing his Democratic rival Joe Biden at the polls has said that he is willing to go beyond the US$1.8 trillion offer for relief that's been tabled by the Democrat-controlled House of Representatives. 
But Republican Senate Majority Leader Mitch McConnell outright rejected the proposal, while U.S. Treasury Secretary Steven Mnuchin has assured House Democrats that Trump himself will personally lobby to get Senate Republicans to come onboard the stimulus package. 
Investors are watching the prospects of a fresh round of stimulus warily, pricing in the unlikelihood of a deal being hammered together – but then again, this is Washington. 
And drama is the perennial course of the day, so an eleventh hour stimulus package, while unlikely, is still entirely possible, which has stemmed the bleeding on markets somewhat. 
Asian markets were mostly down, with 
Tokyo's Nikkei 225 (-0.13%), Seoul's KOSPI (-0.89%) and Sydney's ASX 200 (-0.43%) down while Hong Kong's Hang Seng Index (+0.46%) was the only index in the green before lunch.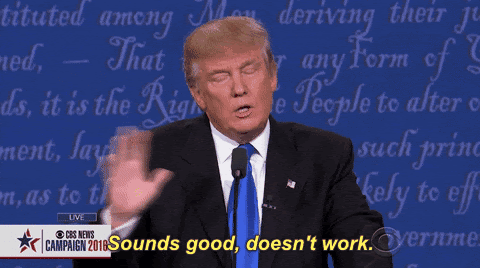 1. Remdesivir Is Not the Silver Bullet for the Coronavirus
WHO report suggests that Gilead Science's (-1.70%) Remdesivir coronavirus treatment shows no significant improvement in survivability
Investors betting on Gilead Science in the early days of the pandemic may be caught blindsided by the news, as a cheaper steroid alternative, dexamethasone, is the only proved drug therapy that can reduce fatality in severe coronavirus cases
As one of the frontrunners in the race to develop effective treatments for the coronavirus, Gilead Sciences saw its fortunes rise with the early promise for its blockbuster drug Remdesivir.
But silver bullets in our global battle against an invisible disease are hard to find, and a clinical trial using Remdesivir by the World Health Organization (WHO) has found that the drug had no substantial effect on a coronavirus sufferer's chances of survival.
In medicine, the first tenet is to do no harm, but a drug is pretty useless when it doesn't do anything else after that.
Results from WHO's highly anticipated Solidarity trial found that none of the treatments using Remdesivir "substantially affected mortality" or reduced the need to ventilate patients.
The WHO study also found that other existing drugs had little effect on mortality, including hydroxychloroquine (touted by U.S. President Donald Trump), lopinavir and interferon.
While not yet peer-reviewed, the WHO study is a heavy blow to investors who had bet big on Gilead Sciences, hoping that the biotech company may already have possessed the keys to coronavirus treatment where a vaccine still proved elusive.
Remdesivir had received partial approval for use by the U.S National Institutes of Health in April and was believed to be capable of cutting recovery time, especially in hospital treatment.
Later in July, Gilead Sciences released further data suggesting that Remdesivir could reduce the likelihood of death from the coronavirus, but that finding had not been confirmed in a randomized drug trial – the gold standard for drug approvals.
Nonetheless, shares of Gilead Sciences soared on each subsequent report suggesting that Remdesivir was able to reduce the chances of death after being infected with the coronavirus.
Trump received Remdesivir as part of his treatment for the coronavirus, but the only drug proven so far to improve survival rates is dexamethasone, which Trump also received – a cheap steroid that can be taken orally and is widely available globally.
The WHO recommends dexamethasone for severe coronavirus infections.
Gilead Sciences which has priced Remdesivir at US$2,340 for a 5-day course, inked an agreement earlier this month with the European Union for 500,000 treatment courses for European countries, including the United Kingdom, with an option to increase orders.
It's unclear how the recent WHO findings will affect the sales of Remdesivir, but some public health experts have cautioned that its cost is too high for a drug that has not been proved to decrease the likelihood of death in coronavirus cases – perhaps its stock is too highly priced.
2. Where have all the dividends gone? 
Asian investors rely more heavily on corporate dividends than their western counterparts
More than double the firms in Asia have cut dividends than in the United States, but still less than in Europe 
Retirees relying on dividend income to fund retirement needs have had to take on more risk to increase returns, but there are still some bright spots for yields, for instance in REITs 
Maybe it's the numerous gambling movies centered around Hong Kong actor Chow Yun Fatt, but the portrait of profligate punters from Asia betting on anything from grasshoppers to cockfighting, is unreflective of the average Asian investor's portfolio.
Many in markets like Singapore, Hong Kong and Australia are actually more reliant on dividend yields than their global counterparts.
Unfortunately, this year has been the worse year on record for stock dividends, overturning formerly rock-solid retirement plants from Sydney to Singapore, Tokyo to Tianjin and everything in between.  
Almost a third of Asia Pacific companies this year, including marquee names like HSBC (+0.89%), Westpac Banking (-0.96%) and Nissan Motor (-0.27%) have either scrapped or reduced dividends because the coronavirus pandemic has forced them to conserve cash.
While the number of companies cutting dividends in Asia is still less than that of Europe, where half of all companies are curbing dividends, it's still substantially greater than the 13% of companies in the U.S.
Many retirees who depend on dividend income to fund their retirement lifestyles, are facing a double whammy of a precipitous fall in interest rates, at a time when dividends are being slashed.
Even in Australia, where cash deposits used to attract nearly 5% per annum, are lucky to get even 1% in the current climate.
Companies listed on Chinese and Hong Kong bourses make up the bulk of those scrapping dividends, followed by firms in Japan and Australia, and the expectation is that the trend will roll on well into next year.
And that has pushed some retirees to take on more risk, at a time when their meager incomes can ill afford for them to do so.
As mobile trading apps with slick interfaces have rolled into Asia, although the zero-fee trend has not yet taken grip, retirees have been betting on tech stocks and pharma companies, which have proved resilient during the pandemic.
But as valuations rise, so do risks.
Long hailed as a source of passive income, alongside real estate rental yields, dividend-paying companies were long a darling of investors across Asia, but not so anymore.
The pandemic has upended long-held assumptions about risk and returns, with many Asian investors increasing portfolio risk.
Real estate investment trusts or REITs remain one of the few remaining bright spots for those chasing dividend yields, with Singapore's REITs still paying out an average of 4% – but even they are not a sure thing.
While the shift to working from home is likely to have taken root in much of the western world, where a greater emphasis on work-life balance is maintained, that culture is less pervasive in Asia.
And Asian "mall culture" will mean that physical retail and office space is likely to continue to do well in any nascent recovery, with the Asian norms of "visibility" and face-to-face contact key to doing business meaning that office rentals are likely to bounce back faster than in the west. 
These factors should ensure that rentals continue to be robust and while REIT dividends may take a short to medium term hit, that may be a perfect opportunity for investors to stock up on them.
Finally, it's not just the U.S. that has technology stocks.
There are plenty of tech stocks out of Taiwan that should do well from strong demand for 5G, data centers and gaming computers, including the likes of Asustek Computer (+0.41%) and Micro-Star International (-0.40%) which both manufacture a wide variety of computer parts.
Other tech companies listed in Hong Kong or China are also trading at far lower multiples than their American counterparts and can be considered.
Dividends may be down, but yield is not out, provided investors look hard enough.
3. China's Central Bank Just Did a Massive Airdrop
China's central bank just "airdropped" US$1.5 million of free digital yuan to citizens in Shenzhen to test the rollout of their central bank-issued digital currency
Digital yuan airdrop now puts China at the forefront of issuing central bank digital currencies
There's no such thing as free money. Or is there?
Airdrops, or "free tokens" which were common during the initial coin offering (ICO) craze of 2017, saw ICOs hand out free tokens if people did any number of things like tweeting about the ICO or sharing a link on social media.
Taking a leaf out of the cryptocurrency playbook, China's central bank, the People's Bank of China (PBoC) has "airdropped" some US$1.5 million in digital yuan to the citizens of China's hot bed of experimentation, Shenzhen, which was one of the first cities to test market reforms as China transitioned from a centrally-planned economy to a socialist economy with Chinese characteristics (whatever that means).
Over the past week, tens of thousands of Chinese in Shenzhen spent digital yuan at gas stations and convenience stores, an experiment unprecedented in size and scope and far beyond the fantasies of any ICO's airdrop.
The move has catapulted the Middle Kingdom ahead of the rest of the world, in the issuance of a central bank digital currency.
Fifty thousand Chinese citizens were randomly selected through lucky draws on the digital yuan's wallet app, with each winner receiving almost US$30 each, for spending at over 3,000 retail outlets in Shenzhen's most bustling districts.
Shenzhen's digital yuan airdrop comes just a week after Chinese President Xi Jinping's visit to the southern city and marks the biggest step forward in Beijing's goal to keep up with, and control its rapidly digitalizing economy, potentially bolstering the yuan's goal of becoming a truly global currency.
While China boasts having one of the most cashless societies, with even rural vendors preferring digital wallets instead of fumbling for change, the digital yuan is designed to protect China from having to one day adopt foreign standards such as the dollar or Bitcoin – which are controlled by someone other than the Communist Party.
Designed to eventually replace physical cash, the digital yuan will also help Beijing maintain a better grasp of the country's money supply and prevent capital flight beyond the dreams of Big Brother.
And it is this last factor which may provide an unexpected boost for Bitcoin and other cryptocurrencies, especially, dollar-backed stablecoins.
Because Chinese, particularly those who have made their money through less than licit means, would not want to be moving around their money under the watchful eyes of Beijing, the raison d'être for Bitcoin and other more anonymous cryptocurrencies becomes more apparent.
Strict capital controls imposed on Chinese citizens as well as a strong desire to keep Beijing out of their purses, could see a bump in cryptocurrency demand and usage, especially for dollar-based stablecoins, which are less volatile and widely accepted.
Pity that there aren't any airdrops for those sorts of cryptocurrencies. 
Novum Digital Asset Alpha is a digital asset quantitative trading firm.
Exclusive access to Novum Digital Asset Alpha's Daily Analysis is made in conjunction with Bitcoin Malaysia.
The information and thoughts laid out in this analysis are strictly for information purposes only and should not be regarded as an offer to sell or a solicitation of an offer to buy any security in any jurisdiction where such an offer or solicitation would be in violation of any local laws.
It does not constitute a recommendation or take into account the particular allocation objectives, financial conditions, or needs of specific individuals.
For more information about Novum Digital Asset Alpha, please click on the image below: