It's finally Friday and I hope you're looking forward to a great weekend, because it's been a tough week for markets in general. 
In brief (TL:DR)
U.S. stocks rose 1% in a choppy trading session.  
Asian stocks are up as Wall Street eked out some last minute gains. 
U.S. 10-year Treasury Bills fell as yields rose to 0.682% from 0.673% the day before as investors piled on more risk (yields rise when bond prices fall). 
The dollar rose slightly against a basket of major currencies. 
Crude oil rose with WTI Crude Oil (Nymex) (+0.90%) trading at US$39.07 over supply cuts from Russia. 
Gold (Comex) (+0.13%) was unchanged at US$1,772.90 from US$1,772.30 a day earlier as investors remained undecided over the fate of markets. 
Bitcoin (-0.17%) edged up slightly in overnight trading clawing back some lost ground and bouncing off its precipitous fall to US$9,000 and now trades around US$9,265 (GMT 0130) 
In today's issue…
Banks have been unleashed – what will this mean for risk assets? 
China is buying soybeans, and that's good for U.S.-China trade relations
Bitcoin refuses to die – why a failure to crash below US$9,000 is a good thing for Bitcoin bulls
Market Overview
U.S. stocks clawed back some lost ground yesterday with the S&P 500 (+1.10%), the Dow Jones Industrial Average (+1.18%) and the tech-heavy Nasdaq Composite (+1.09%), all up by over 1%. 
The three indices found their footing in the penultimate hours of trading after swinging in and out of the red for most of the day. 
With no clear catalyst to pull stocks out of their rocky stretch, gains came primarily from the financial sector which got a boost after the Federal Deposit Insurance Corporation voted to reduce the amount of cash that banks must set aside as collateral to cover potential losses on swap trades. 
Other financial services regulators have signaled that they plan to sign off on the changes, pushing bank stocks upwards. 
The blue-chip Dow Jones Industrial Average rose on the news, led primarily by shares of Goldman Sachs (+4.59%) which rose by US$9.08 to close above US$200 again at US$207.10, and JPMorgan Chase (+3.49%) which gained US$3.30 to US$97.96. 
But soaring coronavirus cases in the U.S. has put a damper on the relentless rally in stocks, with Thursday's session seemingly rudderless as investors weighed positive economic data against a new spate of infections. 
On the one hand Texas has already rolled back its opening up and there is a real risk of renewed lockdowns in some states in America. On the other hand, economic data from earlier this month suggests that the U.S. economy is already beginning to recover from the pandemic's effects. 
The U.S. Labor Department said yesterday that about 1.48 million people applied for unemployment benefits last week, which is stable from the week before, but given that jobless claims are a lagging indicator, have caused some concern that their numbers will spike in the face of another round of nationwide shutdowns. 
Rising oil prices reflect supply cuts from Russia, which have buoyed prices, suggesting that oil producers are growing increasingly wary about a return of demand and are trying to lock-in profits where they still can. 
Asian stocks were mostly up in the pre-lunch trading session with Tokyo's Nikkei 225 (+1.09%), and Seoul's KOSPI (+0.62%) and Sydney's ASX 200 (+0.95%) all in the green before lunch – while Hong Kong's Hang Seng Index (-0.27%) was the only laggard. 
With investors still undecided about what will happen next, gold and U.S. 10-year Treasury Bills were more or less unchanged from the day before. 
1. Banks Unleashed – Time To Roll The Dice
Reduced margin requirements for OTC swaps for banks could free up billions of dollars and encourage the creation of more derivatives
Banks could invest more in credit funds, which will help companies who need access to liquidity
Federal agencies have moved to clear post-financial crisis era regulations, that could potentially free up tens of billions of dollars for major banks, and could spur more risk-taking. 
Regulators including the U.S. Federal Reserve and the Federal Deposit Insurance Corporation removed limits on bank investments in vehicles such as venture capital funds and credit funds, part of a broader set of regulations known as the "Volcker Rule."
Now that banks have been unleashed, they've been given the green light to engage in the sort of risky activities that regulators had identified, and sought to contain after the financial crisis, which in the short term (until the next crisis), will boost bank stock prices. 
One of the rules which was tweaked, was the amount of collateral that banks have to put up for swaps. 
Swaps are essentially a form of derivative, in which two parties agree to exchange payments based on fluctuations in interest rates, currencies or other financial instruments – basically taking bets on either side, like a game of baccarat. 
A lack of transparency in the swaps market, which by some measures amounts to hundreds of trillions of dollars (because swaps are derivatives and merely track underlying assets) and unseen exposure to massive losses, were allegedly some of the contributors to the last financial crisis. 
And while regulators in the years following the financial crisis have required standardized swaps to trade on electronic exchanges, swaps tailor-made for the specific needs of buyers and sellers continue to be exchanged privately between two parties – "over-the-counter" swaps. 
Until now, regulators have required fixed amounts of collateral, known as margin, to act as a buffer against potential default by one of the parties, for over-the-counter swaps. 
But Thursday's decision has reduced the margin that banks are required to collect, which according to a recent survey by the International Swaps and Derivatives Association, was US$44 billion in 2019, from the 20 largest participants in the swaps market. 
The removal of restrictions is a big win for the Trump administration and Wall Street, which now has the incentive to dole out more derivatives.  
And given that banks have seen their profitability compressed, with historically low interest rates, unshackling banks may potentially help them find new sources of revenue and should help bank stocks through the recovery phase from the coronavirus pandemic.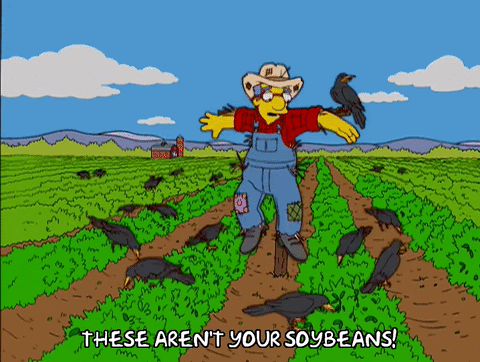 2. China is Sticking To Its End of The Deal – That's Good For Trade
China has been buying soybeans and sticking to the U.S.-China trade deal
Increased trade between China and the U.S. may dull the potential for market shocks as relations between the two countries thaw
On Monday, markets were roiled when White House trade adviser Peter Navarro, in an interview with Fox News, said that the China trade agreement was "over." 
U.S. President Donald Trump quickly rebutted such claims in a tweet,
"The China Trade Deal is fully intact. Hopefully they will continue to live up to the terms of the Agreement!"
And so far so good. 
China has been ramping up its purchases of U.S. soybeans, sparking a rebound in prices, and making the crop profitable again for American soybean farmers, after the coronavirus pandemic had obliterated demand. 
Speaking with the Wall Street Journal, USDA Under Secretary Ted McKinney said, 
"China's soybean purchases over the past few weeks have been a positive sign that China continues to implement the historic trade agreement with the United States." 
And since the Phase One trade agreement between China and the U.S. was inked in January, skepticism over China's holding up its end of the bargain and absorbing American farm products, which are the centerpiece of the agreement, has subsided somewhat. 
So far at least, it looks like China's buying momentum will endure and that paves the way for the rest of the trade deal, an increase of US$200 billion over two years that would help American farmers and businesses. 
And while the trade war had restrained commerce between the U.S. and China, the value of goods exchanged between the world's two largest economies is still up by over 40% since levels in 2017, which is a good sign and could help to prevent unexpected shocks to stock prices from renewed trade tensions. 
3. Bitcoin Couldn't Crash Below US$9,000, Is It Time To Celebrate?
Bitcoin bounces off US$9,000
US$1 billion worth of options contracts due to expire tomorrow 26 June 2020
Not for want of trying, Bitcoin couldn't break the support at US$9,000 over the past 24 hours, despite there being plenty of reasons for bearishness. 
Right now there are some 114,000 options for contracts from across Bitcoin's regulated and unregulated markets and it's not clear whether traders will exercise their options or let them expire worthless. 
For the unfamiliar, options are the right, but not the obligation, to buy or sell an asset, in this case Bitcoin. 
Right now, the largest number of open interest is well outside of current Bitcoin price levels – options for calls (the right to buy) are mainly around US$10,000 and puts (the right to sell) are below US$9,000. 
For holders of puts, Bitcoin would need to crash below US$9,000, which was attempted, but hasn't happened yet, to be in the money. 
And for holders of calls, Bitcoin would need to finish above US$10,000, which doesn't look like it'll happen within the next 24 hours.
Most of these options sit on an unregulated Bitcoin exchange called Deribit, with over US$1.2 billion in outstanding Bitcoin options contracts alone, while the next closest competitor is the regulated CME exchange, with US$441 million in outstanding options trades. 
And interest on CME is a good sign for Bitcoin bulls because even if the options market does not move Bitcoin's price tomorrow, interest from institutions (via CME) should lay a good foundation for continued growth. 
The fact that a lot of the derivatives volume is on CME means that it's likely to be institutional investors who have their heads in the game and over the long term, more institutional interest should equate to a higher price for Bitcoin. 
Over the next 24 hours, volatility is expected to increase. 
With US$1 billion worth of options expiring, there will be a tussle between bulls and bears over Bitcoin's price.  
Yesterday the trade we suggested, that if you're long on Bitcoin, enter below US$9,100 and look to get out at US$9,500 with a stop loss at US$9,000 – this trade is still open, consider leaving it there. 
The short we suggested for Bitcoin, to get in at US$9,100 taking profit at US$8,700 with a short cover at US$9,250 was stopped out. 
That Bitcoin refuses to crash below US$9,000 suggests that there is still some steam left on the upside, and another attempt at US$10,000 remains a distinct possibility, especially since that would mean that calls above US$10,000 would be in the money if it overshoots. 
Volume has been bullish, but a short is possible, wait for Bitcoin to clear US$9,300 and short to US$9,000, with a short cover at US$9,350, in case things don't work out for Bitcoin bulls. 
Ethereum Endures
For now at least, it looks like Ethereum is down, but not out.
And while there isn't US$1 billion worth of Ethereum contracts expiring tomorrow, we can expect Ethereum's prospects to be closely intertwined with Bitcoin's.
Ethereum is trading just below US$232 for now (0330 GMT) and bounced off its low of US$228 overnight.
And while Ethereum tested US$235 in overnight trading, is not yet in a reversal. 
Yesterday the trade we suggested to go long on Ethereum, entering at US$230 and getting out at US$235, with a stop loss at US$228, was in the money. 
The short for Ethereum yesterday was to wait till it tested US$235 again and short to US$228 with a short cover at US$237, is still hanging in the balance and profit can be taken at the current level of US$231.50 if so desired.
Ethereum looks to be holding steady above US$230 for now. 
Those looking to go long on Ethereum can consider getting in at US$232, and selling at US$235 for a quick profit, with a stop loss at US$231 just in case things don't work out. 
Shorts for Ethereum can consider getting in at US$235, and then short to US$230, with a short cover at US$236, to be safe. 
Novum Digital Asset Alpha is a digital asset quantitative trading firm.
Exclusive access to Novum Digital Asset Alpha's Daily Analysis is made in conjunction with Bitcoin Malaysia.
The information and thoughts laid out in this analysis are strictly for information purposes only and should not be regarded as an offer to sell or a solicitation of an offer to buy any security in any jurisdiction where such an offer or solicitation would be in violation of any local laws.
It does not constitute a recommendation or take into account the particular allocation objectives, financial conditions, or needs of specific individuals.
For more information about Novum Digital Asset Alpha, please click on the image below: