Hope you're having a terrific Thursday! 
With much of the world trying their best to return to business as usual, the U.S. Federal Reserve has pledged to keep conditions as conducive as possible to make that happen. 
While most analysts had anticipated that the Fed would maintain the status quo, plans by the central bank to keep rates near zero for years, sent stocks in the S&P 500 (-0.53%) rallying initially, but finally closed down below 3,200 points at 3,190.14 as investors took in the reality that tough economic conditions could last longer than expected. 
Technology stocks were resilient while the wider market sank, as U.S Federal Reserve Chairman Jerome Powell said it was possible millions of people wouldn't go back to their old job or their prior industry, given the potential for reduced demand for goods or services that require increased human contact. 
At that, the tech-heavy Nasdaq Composite (+0.67%) closed above 10,000 points for the first time in a year, at 10,020.35, with the potential for more upside, as investors increasingly look to technology for a way out of airlines, cruise operators and other human-facing businesses which look set to continue suffering. 
Asian stocks slid as the prospect of a lengthy economic recovery weighed down on sentiment.
At 0200 GMT, stocks in Tokyo's Nikkei 225 (-1.09%), Hong Kong's Hang Seng Index (-0.61%) and Sydney's ASX 200 (-1.47%) were all down, while Seoul's KOSPI Index (+0.22%) was up marginally. 
The dollar continued its slide against a basket of major currencies, while oil dipped slightly as traders sat on the sidelines to take in the long term implications on demand by a tepid economic recovery. 
WTI Crude Oil (Nymex) (-2.32%) was little changed overall at US$38.66. 
The U.S. 10-year Treasury yield slid to 0.728% as investors sought safety from stocks, especially those which are more dependent on economic conditions returning to normal – yields typically fall when bond prices rise. 
Gold was the major beneficiary from the Fed's policy meeting as traders poured into the shiny metal as the central bank maintains crisis-level policies, with Comex Gold (+1.38%) trading at US$1,744.50 per ounce, rebounding strongly from its sub-US$1,700 low recorded in May. 
Bitcoin (+0.82%) had a stellar run last night on the back of continued low interest rates and quantitative easing from the Fed, coming within a hair's breadth of US$10,000 at one stage before retreating to now trade around US$9,842 as at 0000 GMT. 
Turning into Thursday, it's increasingly evident that the global economy is not out of the woods just yet.
And with new cases of coronavirus infections in the U.S. rising, there are plenty of risks. 
If you're going to pour yourself a drink this evening, be sure to make it a stiff one, this could take awhile.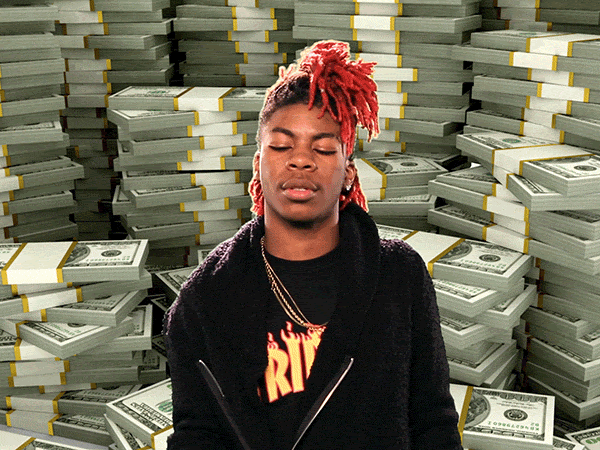 Traditional Stocks Tank While Tesla Electrifies
An electric car is sort of like a smartphone. Before anyone had one, no one thought that they needed to have one, until they did. 
One part automobile maker, one part tech company – Tesla (+8.97%)  saw its share move to a record high above US$1,000 to close at US$1,025.05, a rise of almost 9% from the day before, up over 380% from a year before. 
But it's not cars that are set to drive Tesla's growth – it's trucks, with the firm set to "go all out" according to a leaked memo from CEO Elon Musk – and start volume production of the Tesla Semi, the all-electric Class 8 truck that the company revealed almost three years ago. 
Hype aside, the quiet beneficiary from the lack of flights crisscrossing the United States and much of the world, has been truck traffic. 
Unbeknownst to many, most of the world's airfreight isn't carried in purpose-built cargo aircraft, but in the bellies of passenger aircraft. 
And ever since many of those passenger aircraft stopped flying because of the coronavirus pandemic, other modes of transporting our latest purchase from Amazon (+1.79%) and essential supplies had to be found. 
Enter trucking. 
While millions of Americans lay confined within their homes, truckers were plying the empty highways of America, delivering much needed resources and mending supply chains, stretched to their limits with surging demand for food and medical supplies. 
That surge in trucking demand has shown up in freight prices, with DAT, a freight marketplace, reporting that rates for so-called "spot" loads were up in as many weeks, driven by the demand to keep stores restocked. 
And that trend is likely to continue. 
While rail freight and air cargo will continue to evolve in response to a post-coronavirus landscape, trucking is far more nimble and can scale or contract more easily to meet with changes in demand. 
You can't build more tracks on a dime or achieve point-to-point deliveries for small loads with rail transport, but you can with a truck. 
And while you can take off with a half empty aircraft, it's not profitable, but a half-empty truck could be. 
With a million-mile battery innovation coming from Chinese battery maker, Contemporary Amperex Technology (+1.77%), a listed company on China's Shenzhen stock exchange, that supplies batteries to Tesla, trucking may suddenly be a profitable business again. 
Two of the major costs associated with trucking are manpower and fuel, which the Tesla Semi addresses. 
More than just cruise control, Tesla has developed technologies such as Enhanced Autopilot, which comes with automatic braking, lane keeping and lane departure warnings, as well as future enhancements which could drastically reduce the need for manpower. 
In the future, a lead Tesla Semi could be manned by a human driver, with a convoy of autonomous trucks in trail, with the lead truck taking the convoy across major highways and then pulling over to a designated stop, where the previously unmanned trucks get taken over by their human drivers, in a sort of hub-and-spoke model. 
This would dramatically reduce manpower operating costs for trucking companies. 
And as for fuel?
Contemporary Amperex Technology (what a name) is set to produce a battery that lasts 16 years and 1.24 million miles. 
That means substantial cost savings for fleet owners who could potentially reuse that same battery in a new truck shell – it also means that in the case of a fender bender, the most expensive part of the vehicle, the battery could still be salvaged. 
With oil prices continuing to plummet, Tesla is seizing the opportunity to appeal to fleet operators to retool and not a moment too soon, as gas guzzlers become increasingly competitive the more fuel prices fall. 
But Tesla doesn't just need to rely on Semis for its growth. 
Earlier this week, sales of Tesla's "Made in China" Model 3 more than tripled compared to April, according to data from the the China Passenger Car Association, with total sales in May coming in at 11,095, up from 3,645 in April and 10,160 in March. 
Granted, the previous months saw tepid sales as much of China was in semi-lockdown because of the coronavirus pandemic, yet the surge demonstrates pent up demand for electric vehicles as Chinese citizens start to appreciate the value of having clean air and blue skies. 
As most Chinese remained home, the skies turned blue and air quality improved dramatically in some of the world's most polluted urban centers. 
With a growing recognition that clean skies are a possibility as well as a push towards greater climate change consciousness, Chinese consumer choices when it comes to their vehicles may change as well. 
As more Chinese customers move towards electric vehicles and with Tesla's prescient strategy of focusing on producing in China, robust demand for Tesla's vehicles could be sustained for years to come. 
But at almost 400% up from a year ago, is Tesla expensive? 
Absolutely.
But overvalued? Now that's less clear. 
Tesla benefits from being several things we like in a stock all at once.
It's got a great technology story, access to the world's two largest markets (China and the United States), brand cache (when was the last time somebody talked your ear off about their Hyundai?) and a helluva story. 
Drive a gorgeous car and save the planet? I'd like to see your Prius do that. 
But with that level of innovation and tenacity, also come several risk factors – ongoing trade tensions between China and the U.S. have not spilled over into the market for electric vehicles, yet – that doesn't mean they won't. 
And Elon Musk has been known to send Tesla's stock price plummeting with a rogue tweet every now and then. 
Add to the mix that investors seem to be treating Tesla more like a tech stock than that of an automaker and you can see where we're headed. 
For one, automakers are not software companies – the marginal cost of making an additional unit of software is, well, marginal –  and costs of production decrease relative to revenue the more software you sell. 
Manufacturing autos on the other hand requires insanely costly tooling that has to be paid regardless of whether you sell 10 cars or 100,000 a month – costs that Tesla and every other automaker needs to pay, whether or not they're selling any cars. 
An electric vehicle isn't made out of electricity, it's made from sheet metal – so while it may save you on your fuel costs, it doesn't save the automaker on their manufacturing costs. 
Some of the most expensive pieces of automotive tooling are the dies used to stamp that sheet metal into the sexy curves on a Model S – Tesla doesn't get a free pass on those costs just because its cars are electric – it still pays the hundreds of millions of dollars that every other automaker pays for them.
But because the Fed is keeping interest rates low and with bond yields close to zero, investors will need to weigh their portfolios more heavily in stocks just to maintain the returns they used to enjoy from a 60/40 stock/bond portfolio mix – that means that the potential for Tesla to remain overpriced could endure for years to come. 
Remember, we're not in pre-pandemic times anymore, where traditional matrices of valuation and profitability at least offered some semblance of order. 
Whether a stock is overvalued or not is now, more than ever, a function of perception – so with Tesla, don't buy the high or chase, but buy the dip instead and ride the volatility that this stock no doubt will experience. 
Consider that Tesla is an automaker, yet was the headline stock that led the tech-heavy Nasdaq Composite to a record close, for many investors that's not just any kind of shock, it's an electric one. 
And as with handling anything with electricity, exercise caution. 
Bitcoin's Bounding Upwards
When it comes to Bitcoin, ascribing macro factors to price movements has always been an exercise in controversy.
Because Bitcoin has been with us only since the last financial crisis, its nature as an asset class, its correlations with other asset classes and its response to macroeconomic factors is constantly evolving. 
But you can't ignore Bitcoin's push towards US$10,000 on the back of the Fed's announcement that it will be backstopping the American economy by keeping interest rates low, buying up Washington's bonds well into 2022. 
At a Fed policy meeting yesterday, Fed chairman Jerome Powell said,
"We are strongly committed to using our tools to do whatever we can and for as long as it takes to provide some relief and stability."
The comments made at the virtual news conference after the Fed's 2-day policy meeting were enough to send gold and Bitcoin rising. 
Volumes rose as Bitcoin surged past US$9,950 at one stage before pulling back dramatically to breach the support at US$9,800 briefly and retracing to trade around US$9,850 as of 0200 GMT. 
The long trade we suggested yesterday for Bitcoin considered an entry at US$9,750 and an exit at US$9,850, with a stop loss at US$9,720 – a profitable trade. 
Whereas the short trade we positioned for yesterday saw an entry for Bitcoin at US$9,880, shorting all the way to US$9,660 with a short cover at US$9,950 – this trade was stopped out – the short cover should have been set higher to US$10,000 and the final profit level tightened to US$9,800.
As we noted yesterday, Bitcoin trended sideways but made a gradual ascent, with an outside chance for a push to US$10,000 and reduced odds of a significant medium term fall to below US$9,000. 
Looking forward, expect Bitcoin to consolidate around the US$9,900 level before making another push upwards. 
Anytime Bitcoin comes to a headline-gathering level, such as US$10,000 is the time to exercise more caution – because it can just as easily whipsaw in the other direction. 
If you must go long on Bitcoin, try getting in as close as possible to US$9,900, ideally at a point even below that and target to sell at US$10,100 – a push will see an overshoot, and set a strict stop loss at US$9,820. 
Shorting Bitcoin will need some patience. Wait for a push to US$10,300, at which point try to capitalize on an exit at US$9,800 and a short cover at US$10,400. Be warned that this trade may not be executable. 
Be very careful though, the more Bitcoin closes in on US$10,000, the more dangers there are. 
Ethereum In Lockstep with Bitcoin
Ethereum gyrated to the tune of Bitcoin, almost mimicking Bitcoin's push towards US$10,000 as it made a run at US$250 but ultimately fell short, leading to a precipitous fall and retracing back to trade now just below US$250 at around US$248 (GMT 0300). 
Yesterday we suggested trading Ethereum around a band, between US$240 to US$245 and trading the intraday volatility – a strategy which paid out until the final short trade for Ethereum got stopped out at US$246 and Ethereum surged towards US$250. 
Tracking the progress of Bitcoin, Ethereum has progressively risen and now consolidates just below US$250.
Given that Ethereum has just consolidated at this level, there is a lot that hinges on Bitcoin's movement. 
If Bitcoin clears US$10,000 convincingly, expect Ethereum to clear US$250 as well. 
Going long on Ethereum, try to enter as close to US$248.50 as possible and exit at US$250, with a stop loss at US$248. 
Shorts for Ethereum can consider setting up at US$250 and taking profit closer to US$244, with a short cover at US$252. 
Ethereum's correlation with Bitcoin has strengthened over the past week, so keep a close eye on Bitcoin to predict moves in Ethereum. 
There has been some bullish volume on Ethereum, so traders can expect another push higher. 
Novum Digital Asset Alpha is a digital asset quantitative trading firm.
Exclusive access to Novum Digital Asset Alpha's Daily Analysis is made in conjunction with Bitcoin Malaysia.
The information and thoughts laid out in this analysis are strictly for information purposes only and should not be regarded as an offer to sell or a solicitation of an offer to buy any security in any jurisdiction where such an offer or solicitation would be in violation of any local laws.
It does not constitute a recommendation or take into account the particular allocation objectives, financial conditions, or needs of specific individuals.
For more information about Novum Digital Asset Alpha, please click on the image below: